Thank you to all those that played along and helped me celebrate my birthday!  Everyone that played along will receive a Hexapin.  Email me your name, address and preferred color and I will put it into the mail for you.
The winner of the Easy Does It Hexabag is ……………………………………………………..
Arlette

Now the answers to the games.
Which Quilt Am I With Answers  – PDF version w/links to quilts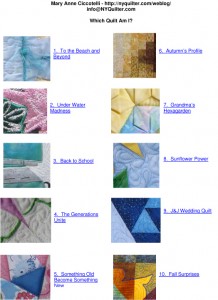 I was trying to be all fancy and have the link go from each individual picture above – but I have spent way to much time on this already – so I am including the links below:
1.  To the Beach and Beyond
2.  Under Water Madness
3.  Back to School
4.  The Generations Unite
5.  Something Old Become Something New
6.  Autmn's Profile
7.  Grandma's Hexagarden
8.  Sunflower Power
9.  J&J Wedding Quilt
10.  Fall Surprises
Viewer's Choice – there were not enough votes to determine the favorite quilts of you blog readers.  But, I did say that I would share the results of the View's Choice from the QQQ Birthday Party last June.
1st Place:  The Generations Unite
2nd Place:  #13
3rd Place:  Grandma's Hexagarden

Thanks for playing along.