This Give-a-way is over.  Please visit this blog entry to see the winner.
At the QQQ Birthday Party those attending had the opportunity to participate in a Viewer's Choice Award.  So, now is your chance to participate in the on-line version. 
Once again, three winners will be chosen and each wil receive a Hexapin.  All enteries will be entered in the drawing for the Grand Prize.  (Read the post from Dec. 13 for all the details).  
After looking at the quilts in the galleries just tell me which quilt is your favorite (1st place) and next favorite (2nd place) and next favorite (3rd place). 
Here's how to do it – leave a comment with this information:
1st Place:
2nd Place:
3rd Place: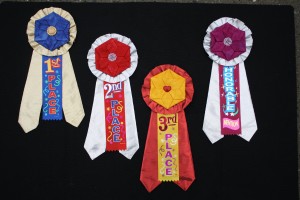 Here are the ribbons that were awarded at the QQQ Birthday Party.  (FYI – we will not be giving out an Honorable Mention during this competition.)
Next week I will share the results of the voting both here on-line and from the Party.
I hope you are enjoying your day!!!!