This Give-a-way is over.  See the winners and answers here.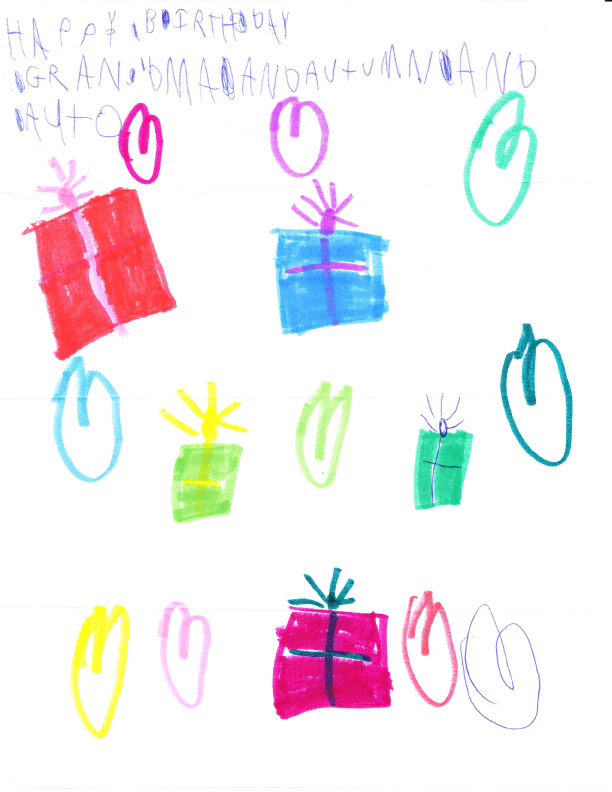 A big thank you to my six year old ganddaughter for this wonderful birthday greeting.
Six months ago today we celebrated my QQQ 50 1/2 Birthday.  We had a few activites that involed the quilts.  I wanted to share these activites with my online friends but at the time of the party my website gallery was very incomplete.  In October I launched a new website designed by Gloderworks complete with an extensive gallery.  So, to celebrate my birthday I will be hosting an online versions of some of these activities that we had at the party.  And of course – with any party there has to be some prizes.  There will be many was to be entered into the drawings.   Each post that includes an activity will have three winners – a Hexapin.  All the indiviual enteries from each post will be entered into the drawing for the Grand Prize – an original Easy Does It Hexabag made by me.  Keep reading for all the details.
Visit back often  in the next few days to increase the number of times you will be entered into the Grand Prize drawing.
Ways to enter into the drawing for a specific post:
1.  Leave a comment on the post
2.  Share about the Birthday celebration on your blog and leave a comment with a link to the post.
3.  Emailing me (info@NYQuilter.com) your answers from the particular activity.  Entry points will be determined following this criteria for correct answers:  100% – 5 enteries; 80%-99% – 4 entries;  50-79% – 3 enteries; 30-49% – 2 entereis;  at least one correct answer – 1 entry.
4.  One entry into the drawing will be given for posting a comment on the specific post telling me you have participate in the activity and have emailed the results to me.
All entries into individual posts will be entered into the drawing for the Grand Prize drawing.
You will have until midnight (Eastern standard time), Monday Dec. 21, 2009 to submit your comments and emails to be considered for the drawings.  Good luck and let the games begin.
Today's activity – Which Quilt Am I?  (PDF version)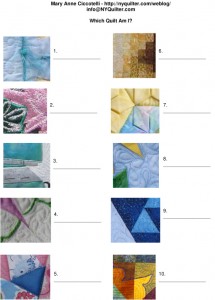 Above is pictured a close-ups of 10 of the quilts that I have made during the past decade.  Visit the gallery on my website and see how many quilts you can identify.
Remember to email (info@NYQuilter.com) me your answers to increase your chances to win in one of the drawings or for the Grand Prize drawing!!!
Enjoy!