(Wednesday, Thursday & Friday – Nov. 2, 3, & 4)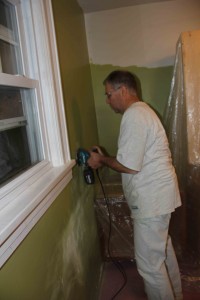 Tom is fixing the wall because before we lived in the house someone had patched a place on the wall and then just painted over it without sanding the rough areas.  While I was painting the walls I noticed it and just looked the other way.  But it really showed up in the darker wall color.  While fixing that place Tom started trying to remove more of the imperfections.  Needless to say, that could turn into a big job.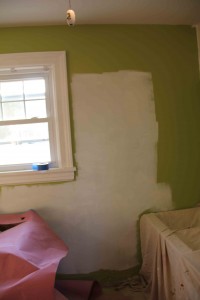 I asked Tom to just work on this one wall.  I really didn't want to have to repaint the entire kitchen.  Here is the wall all fixed and primed.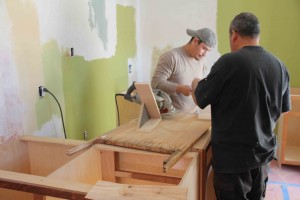 On Wednesday and Thursday they installed the base cabinets.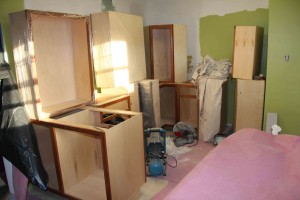 Another view of the base cabinets.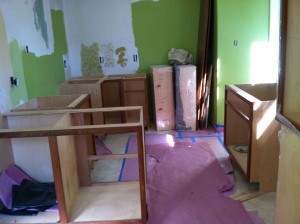 When I stand here if I squint I get a  glimpse of what our new kitchen it going to be like.  I am REALLY excited!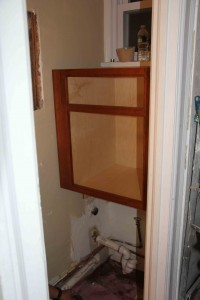 I am not exactly sure what was going on here, but I have faith in Pedro and…………..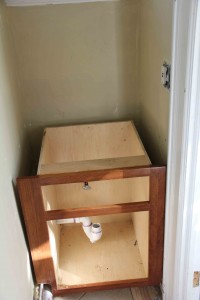 I was right, the bathroom cabinet is in the right place now.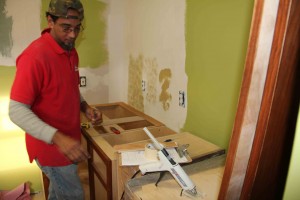 Friday morning they came and did the tempalte for the quartz counter top.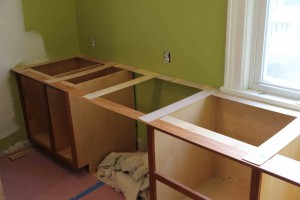 I was wondering how they would do this – here you can see how they used this thin wood and glue sections together to form the exact shape of the counter top.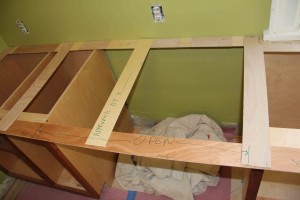 Then he marked the template with the information the plant would need.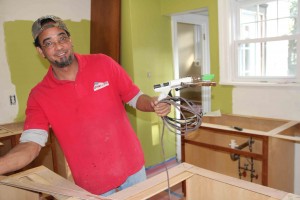 I thought this was a great idea of putting a clamp on the tip of the hot glue gun.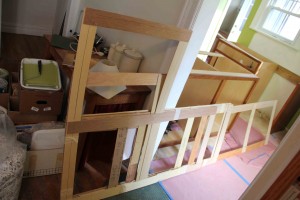 The completed templates ready to take back to the plant.