(On Thursday, Oct. 27 & Friday, Oct. 28 and the week-end)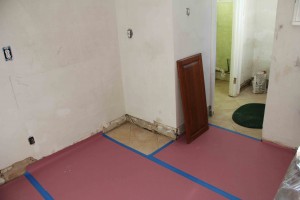 On Thursday I did some more prep work on the walls.  I was a nervous wreck working where the tile had been laid even though I had a drop cloth down.  On Friday morning I covered the entire floor with this heavy duty paper.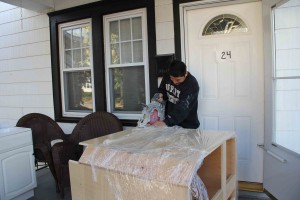 Just when I was finishing with putting the paper down Pedro showed up with more cabinets.  The corner cabinet was to big and would not fit through the door.  Pedro had to cut the toe-kick part off and will build a separate piece for that.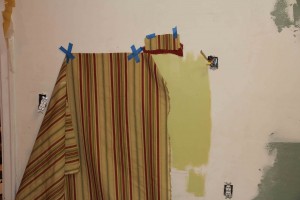 I have spent A LOT of time making sure that I liked the color of paints that we have chosen.  This is the color for the kitchen walls.  Okay, but my heart is not singing.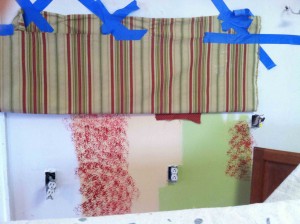 The red color on the left was a "not-so-good" idea for the bathroom.  Back to the drawing board for that room.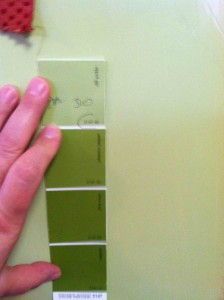 I thought that the darker green would be better, but Tom and one of my friends said that it would be too dark.  I agreed that maybe it was too dark, but maybe a color half-way in between. But, maybe I just wasn't getting it – this color would be okay.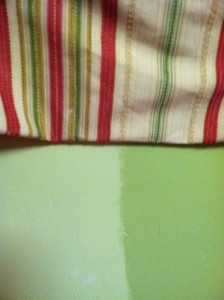 Then, Friday evening before going to the temple I was visiting with Emily and discussing my woes of the paint choice.  She agreed that a darker color would probably be better, but maybe not as dark as the next color.  So, on Saturday I took my paint back to the paint store and ask them to make it darker, but not as dark as the next color.  Came home and tried and this is what I had.
I talked to Tom about it and he said that he did like the lighter color better (and I let out of sigh of disappointment) but then added that he liked the darker color also.  He was living the moto – If I am happy he is happy.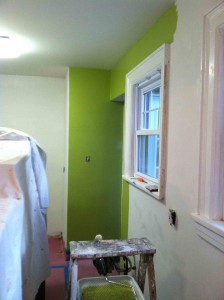 As I started to paint I began to doubt myself – was this TOO GREEN????????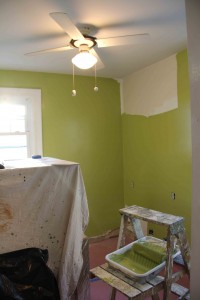 As I continued to paint and it dried – I really began to like it.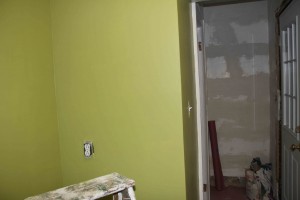 Now that it is finished – I LOVE IT!!!!! and I also now LOVE the fabric for the curtains for the kitchen.  IT is all beginning to come together.