Since my last posted (just over 1 1/2 months ago) I have:  
Been in 10 states:
1.  New York
2. New Jersey
3.  Pennsylvania
4.  Connecticut
5.  Rhode Island
6.  Georgia
7.  Tennessee
8.  Kentucky
9.  Ohio  (actually just 9 states because the Cincinnati airport is located in Kentucky and not Ohio)
10.  Utah  
Been in or out of 7 different airports:
1.  Westchester (HPN)
2.  Atlanta
3.  Nashville
4.  Cincinnati
5.  Newark
6.  New York – JFK
7.  Salt Lake City  
Slept away from home 11 nights:
1.  Bird-in-Hand, PA  (3 nights)
2.  Providence, RI (1 night)
3.  Paducah, KY  (4 nights)
4.  Salt Lake City, UT (1 night)
5.  Provo, UT  (2 nights)  
Attended the QPN(Quilt Professional Network) Conference
As always, learned alot, enjoyed the company and went home ready to work hard on growing my business.  
Completed and donated a small quilt for the QPN auction and a second small quilt to the NQA Quilt Auction.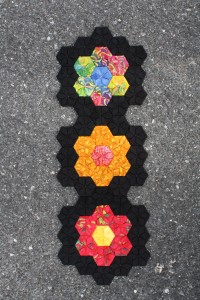 "A Bouquet from Grandma's Hexagarden" – small quilt made for QPN auction – purchased by B J. Titus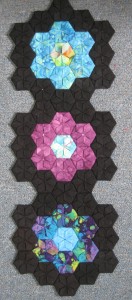 "Another Bouquet of Flowers" from Grandma's Hexagarden – small quilt made for the NQA Small Quilt Auction.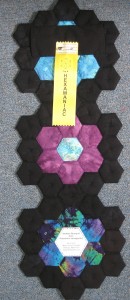 If you are a hexamanic and will be the NQA Quilt Show, watch for this little quilt to bid on.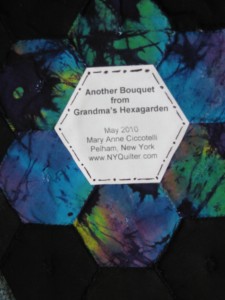 Construction a block for the QPN Honoree – Mary Kerr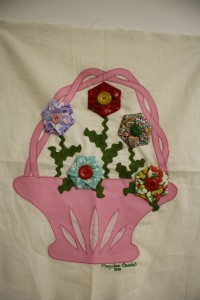 Here is the block that I made.  Mary loves vintage and of course it had to have my folded hexagons as flowers.  Her new book "Vintage Revisited" has just been release and I was way excited to learn that two of my quilts were included.  Thanks Mary!
Constructed a Fun Back for the VSQ Raffle Quilt
(Actually this was completed the middle of March but I did not blog about it because I did not have any pictures.)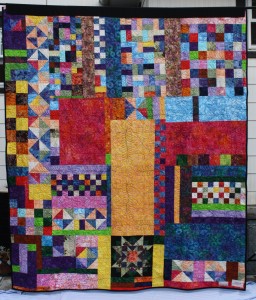 When I was helping with layout of the VSQ raffle quilt the back came up and the committee was saying that they needed to go and purchase fabric for the back.  I looked over and saw alot of fabric left from making the front and offered to make a fun back.  I used all the small pieced that they had cut but did not use in making the star blocks.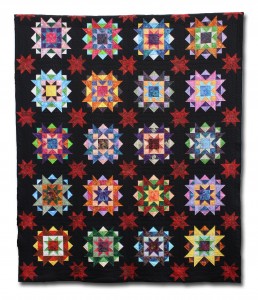 The front of the VSQ Raffle quilt.  It was quilted by Teri Lucas.  If you want to purchase raffle quilts, contact me. 
Attended five quilt shows:
1.  American Quilter's Society – Lancaster
      Quick trip to this show prior to the QPN Conference
2.  MQX – Machine Quilting Expo – Providence, RI
      Machine Quilting to the extreme was seen on most every quilt at this show. 
                       Attened the show with two of my good quilting budies.  Good times abounded!
3.  American Quilter's Society – Paducah, KY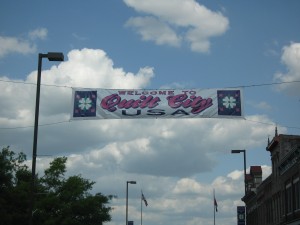 Highlights of my trip to Paducah:
            *The Quilts were BEAUTIFUL!!!!!!
             *Taking four classes: 
                    1 & 2.  machine quilting from Sue Patton
                    3.  peeled back paper pieceing with Barbara Vlack
                    4.  Quilt Book Publishing 101 with Andi Reynolds
                                       (time to get working on this project)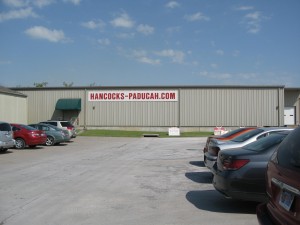 *Hancocks of Paducah – 
                                 never imagine there could be so much fabric under one roof.
              *Endless shopping with many wonderful vendors!!!!!!
                                    (Hard on the pocket book though.)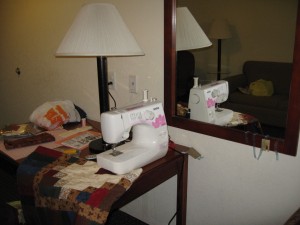 *Sewing late into the night working on a quilt top for my niece's 5th wedding anniversary – she was married 5-5-05 and I thought it would be nice to give her quilt to her on her 5th wedding anniversary – so much for the thought.  I did get the top completed, but it is not quilted).  (If you noticed, you are right – this is not a Bernina.  I had taken a Bernina sewing machine with me and it got damaged during the flight.  I purchased this little machine at Wal-Mart so I could work on this project.  It didn't sew like a Bernina but is did sew. ) 
              *The National Quilt Museum – that in and of its self is worth the trip to Paducah
              *Visiting Caryl Bryer Fallerts studio and having a guided tour of her wonder home 
4.  Northern Stars Quilters – A World of Quilts – Somers, NY
       Always a wonderful show to attend here close to home!
5.  HMQX – Home Machine Quilting Show – Salt Lake City, UT
      On the Thursday of the show I received a call from my sister asking me if I was in Utah.  Our cousin had attended the show on Thursday and called my sister to tell her about seeing the quilt.  My sister had called me in New York and I did not answer the phone.  She then called my cell phone and yes – I was in Utah (guess I need to talk to my siblings more).  What was even funnier was that she was also in Utah.  What great fun it was going to the show with a friend that had lived in New York but now lives in Salt Lake.  After the show we went to lunch at the Lion House and there was my sister and all her family.  Does it get any better than that:  quilts, friends and family all in the same morning.  Oh yes it does, it was a thrill to see my quilt with a ribbon on it in such a good show!
       
Won four ribbons:
       Northern Star Quilters – A World of Quilts:
            1.  Pinwheel Magic #2:  2nd Place
            2.       "               "           "   :  Judges Choice
            3.  To the Beach and Beyond:  Honorable Mention
       HMQS – Home Machine Quilting Show – Salt Lake City, UT
            4.  The Generations Unite  – Judges Choice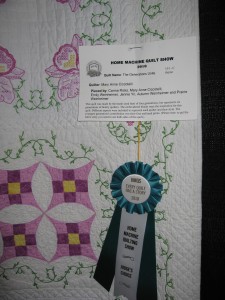 Won the Northern Star Quilters Raffle quilt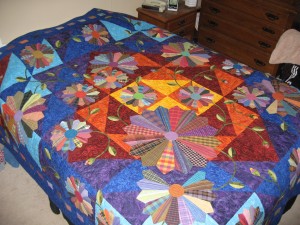 I really do not like to sell raffle tickets, so each year when the guilds passes out the raffle tickets to be sold I purchase them all and just consider it additional dues that I am paying to a member of the guild.  Well, this year the perk for buying those raffle tickets was that I won the quilt.  Now our bed has a gorgeous quilt on it.  Thank you to all Northern Star members who worked on this beautiful quilt! 
Attended Isa's Baptism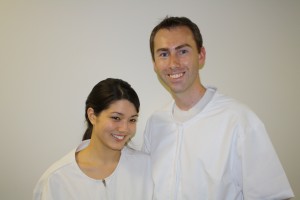 We were please to attend Isa's baptism into the Church of Jesus Christ-of-Latterday-Saints.  
Completed Brian and Isa's wedding quilt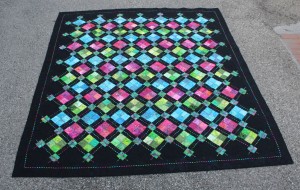 In April I completed Brian and Isa's wedding gift.  Not bad – just alittle over three months after the wedding.  I do have some other wedding quilts waiting around to be completed (one is now over five years – the rate I am going it may be a Golden Wedding Anniversary gift.)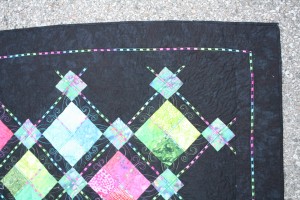 Close-up of the quilt.   
Quilted the Heart quilt for Village Squares Quilters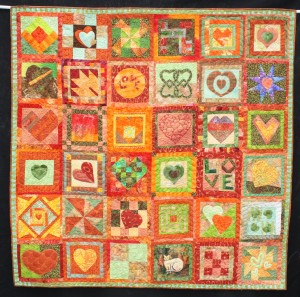 Members of the Village Square Quilters  made heart blocks and Rosland Yong pieced the top.  I then had the  priveledge of quilting this wonderful quilt.  It was then donated to  Friends Without a Border where it was auctioned off for $4000.00.  Pretty exciting to be a part of such a wonderful project.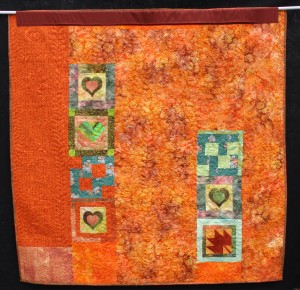 Here is the back of the quilt.  
Attend a baby shower for Chris and Beth's baby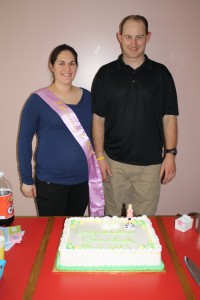 Here are the proud parents.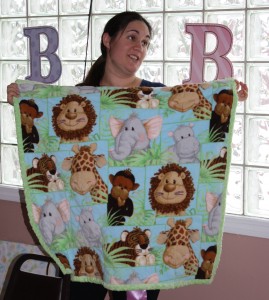 Made a little fleece/minky blanket for my new little granddaughter.  The two grandmother's think alike because the other grandma also made a blanket out of the same fleece.  I hope this little girl likes animals.  
Presented demo on the Folded Hexagon at Sampler Medly of the Northern Star Quilters Quilt Show
Tutorial for the folding instructions for the folded hexagon can be found on my website.  
Presented 2 lectures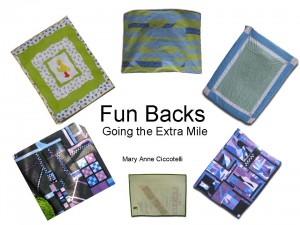 I was able to present my new lecture "Fun Back – Going the Extra Mile" to my own Pelham Quilters and the Quilters on the Croton.  It was fun to organize the pictures and my thought process of how I do fun backs.  
Helped with a Relief Society hummanatarian project to make over 21 baby quilts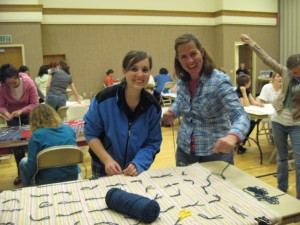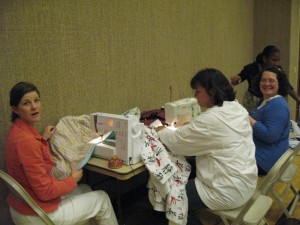 Attended my stepson's graduation University of Utah where he received his Doctorate of Physical Therap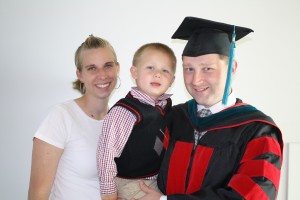 I am very proud of Jason and how he has applied himself.  Christy has been so supportive and manages their finances very well.  We are so thankful to have her as part of our family.  They are wonderful parents to my little grandson and we are looking forward to the arrival of their little daughter in a few weeks.   

Spoiled my four adorable grandchildren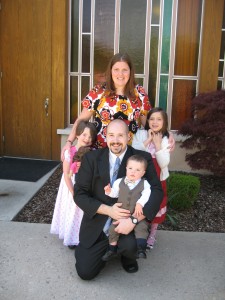 Notice the cute suit that my daughter made her little son.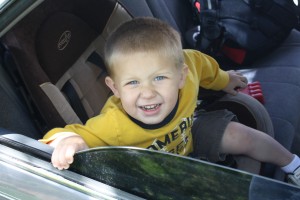 Grandson that is soon to be from Nevada. 
WHEW!!!!!!!