(Sunday, Nov. 27)
Tom flew home on Saturday from Las Vegas and I flew to Utah.  I will spend the week here with Emily and her family.  On Friday Tom will fly back to the west (Salt Lake City).  We will attend Autumn's baptism on Saturday and then both fly home to New York on Sunday (Dec. 4). 
When Tom arrived home and called with a report I was disappointed (but not surprised) to hear that nothing else had been done on the kitchen.  Time to call Pedro and see what was going on.  On Sunday morning Tom got up and left for church.  After church he visited a couple of people and then went home.  When he entered the front door he was greeted with a "Hello" from the kitchen.  Pedro was doing some work on the kitchen. As it had turned out –  Pedro's son had dropped in for a surprise visit on Friday and Saturday so Pedro had spent some time with his family.  He decided to come on Sunday.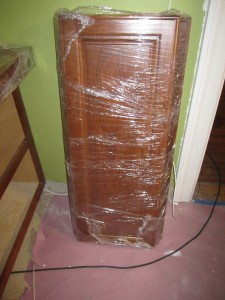 He dropped off most doors.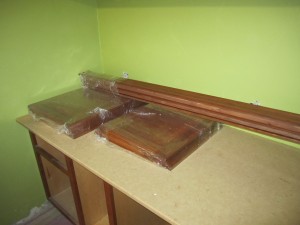 More doors and some of the crown molding.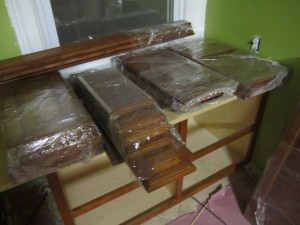 Lots more doors, draw fronts and other supplies for the cabinets.  Thing are getting EXCITING!!!!!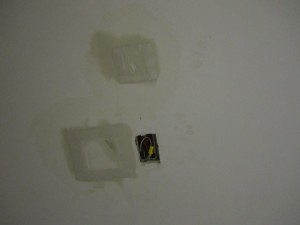 Moved the electrical box for the problem fan.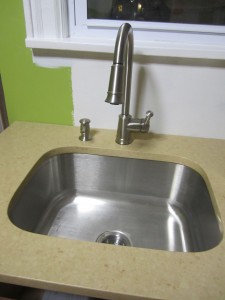 Installed the faucet on the kitchen sink and …………….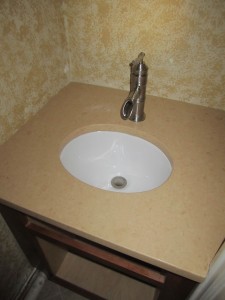 and the bathroom sink.  The water was not hooked up because Pedro needs a different hose or different part for each faucet.  No water yet on the main floor.  Probably in a few days.