My niece got marred on 5-5-05. I didn't quite (what an understatement) get her wedding gift completed for the wedding. In fact, at the beginning of this year, I decided that it would be cool to give it to her for her 5 year anniversary. Well, you guessed it, I went on to Plan C – give it to her and her husbnad for their 5 year, five month and five day anniversary (10-10-10).  Well, here comes Plan D – ???????.  Anyway – I am thinking about you Angie and love watching all the wonderful things that you and Ryan have done in the past 5+years! So I guess that Plan D will be – 5+5+5+???????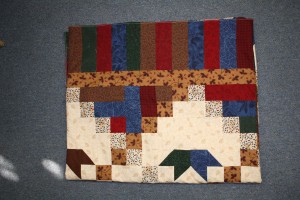 Here is a sneak peak.
Side ntoe:  I was working on this post and was going to hit the Publish button at 10/10/10 at 10:10 am but my computer froze up.  I was nto to worried because I just though I would use 10:10 pm except the clock is a 24 hour clock.  Oh well, alway good intentions and not much else.