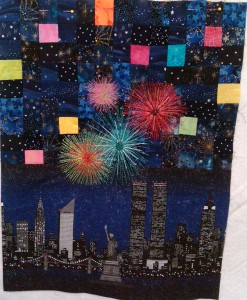 This piece is approx. 13″ (w) X 17″ (h). I think the title of this piece is going to be:
New York City
What is this Idaho Girl Getting Herself Into?
Makes me think of when Tom and I were engage and I lived in Maryland and I would come to New York for the week-end.  As I was crossing over the Hudson River on the George Washing Bridge I would look at the skyline of New York City and wonder was I was getting myself into.

(This block is 1 0 1/2″ X 10 1/2″)