If you were wondering if this Ciccotelli family celebrated Christmas – the answer is YES!!!!!.  In fact in a pretty big way this year.  Our almost three year old grandson was coming to New York on Christmas Day for his uncle's wedding.  Little T's daddy requested that Grandpa Train (what T calls his NY Grandpa) put the Brio Polar Express train set around the Christmas Tree.  Little did they know of the surprise that awaited them upon their arrival in New York.
The Utah Ciccotelli's arrived Christmas night.  Needless to say – Grandpa was pretty excited to share his trains with T.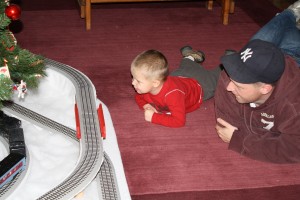 Here is T and his daddy watching the train.  They both were pretty excited.  I think one of them because of the train and the other because of watching his cute little son.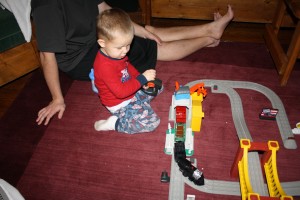 Grandpa Train and Grandma also hooked T up with his own remote controlled train set from Lionel.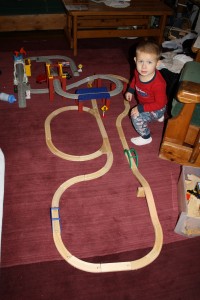 T also liked playing with our wooden train set.  Did not bother him to mix and match.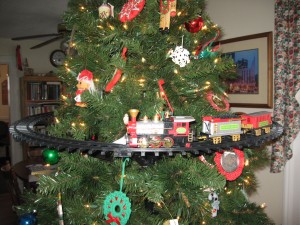 I even found a train to put in the tree for my "Train Loving" man.  We had trains everywhere!